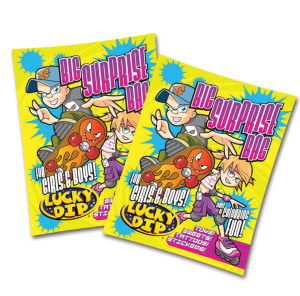 Lucky Bags for boys and girls. Our unisex lucky dip bags are great as party bags or gifts to children.
The lucky bags typically contain a couple of sweet treats, a toy, a game/puzzle and a tattoo. As it's a lucky dip, the contents will vary – which adds to the excitement when opening.
These lucky bags are great value at €1.20 each and are even cheaper if you buy in bulk. As the bags are unisex, they are perfect for parties where you are not sure how many boys and how many girls there will be.